Regular price
Sale price
£64.00 GBP
Unit price
per
Sale
Sold out
SAVE 20% on The Perfect Pair. (Usually £80 when bought separately)
A two-step, easy-to-use daily skincare duo designed to target hormonal skin changes experienced in menopause. Our best-selling serum and day moisturiser is a supercharged solution for your skin.
Liquid error (snippets/buy-buttons line 153): Could not find asset snippets/icon-unavailable.liquid

Vegan

Cruelty Free

Made in UK
View full details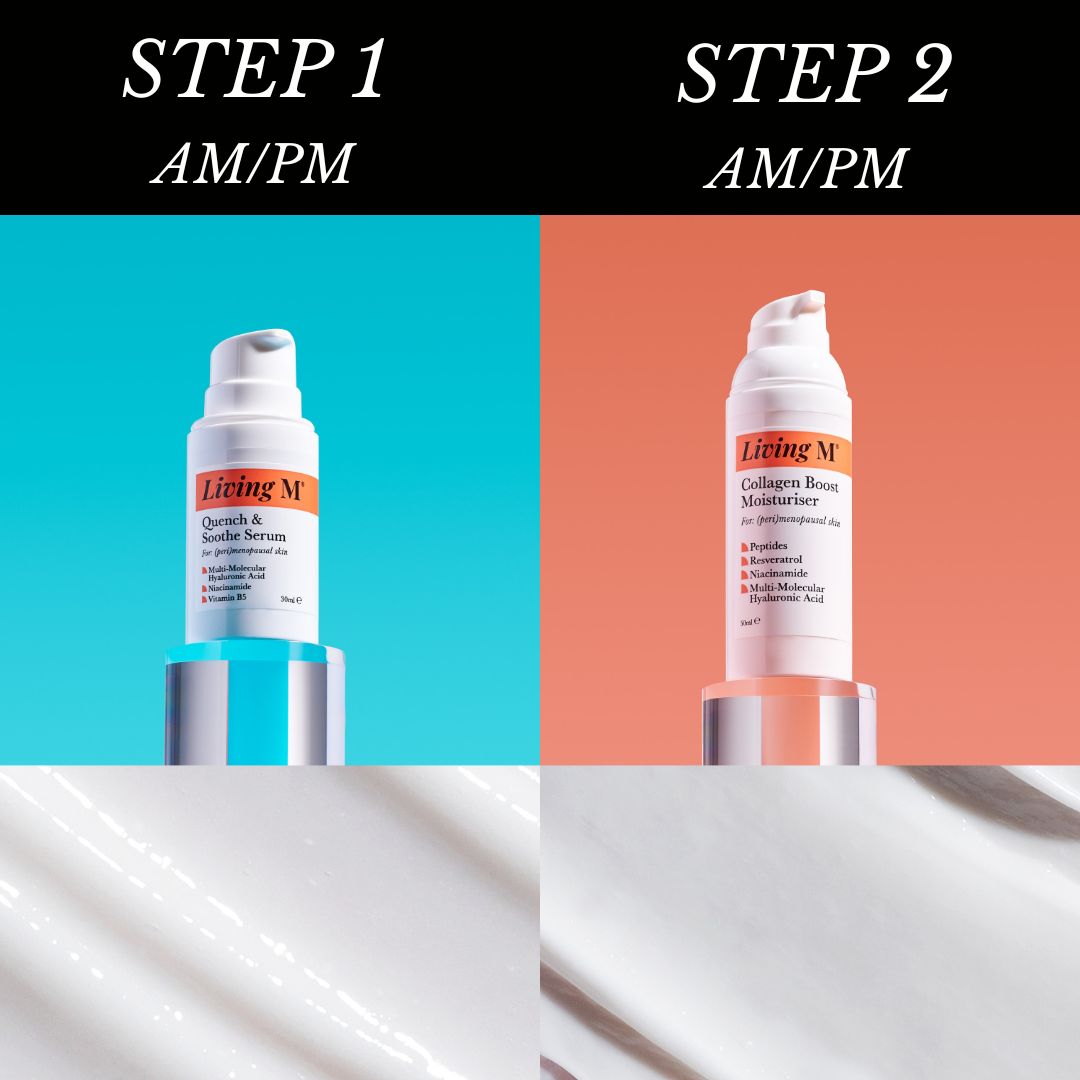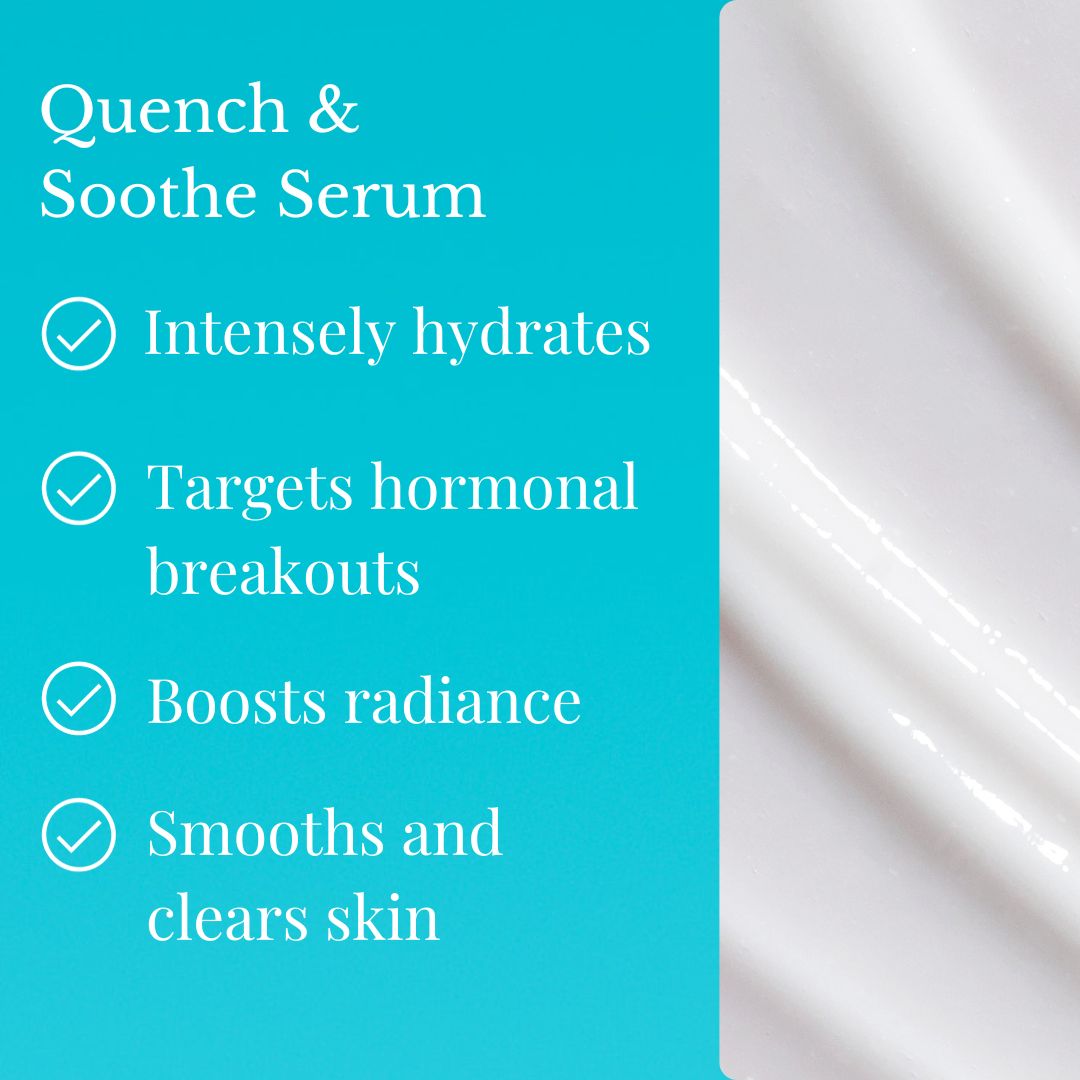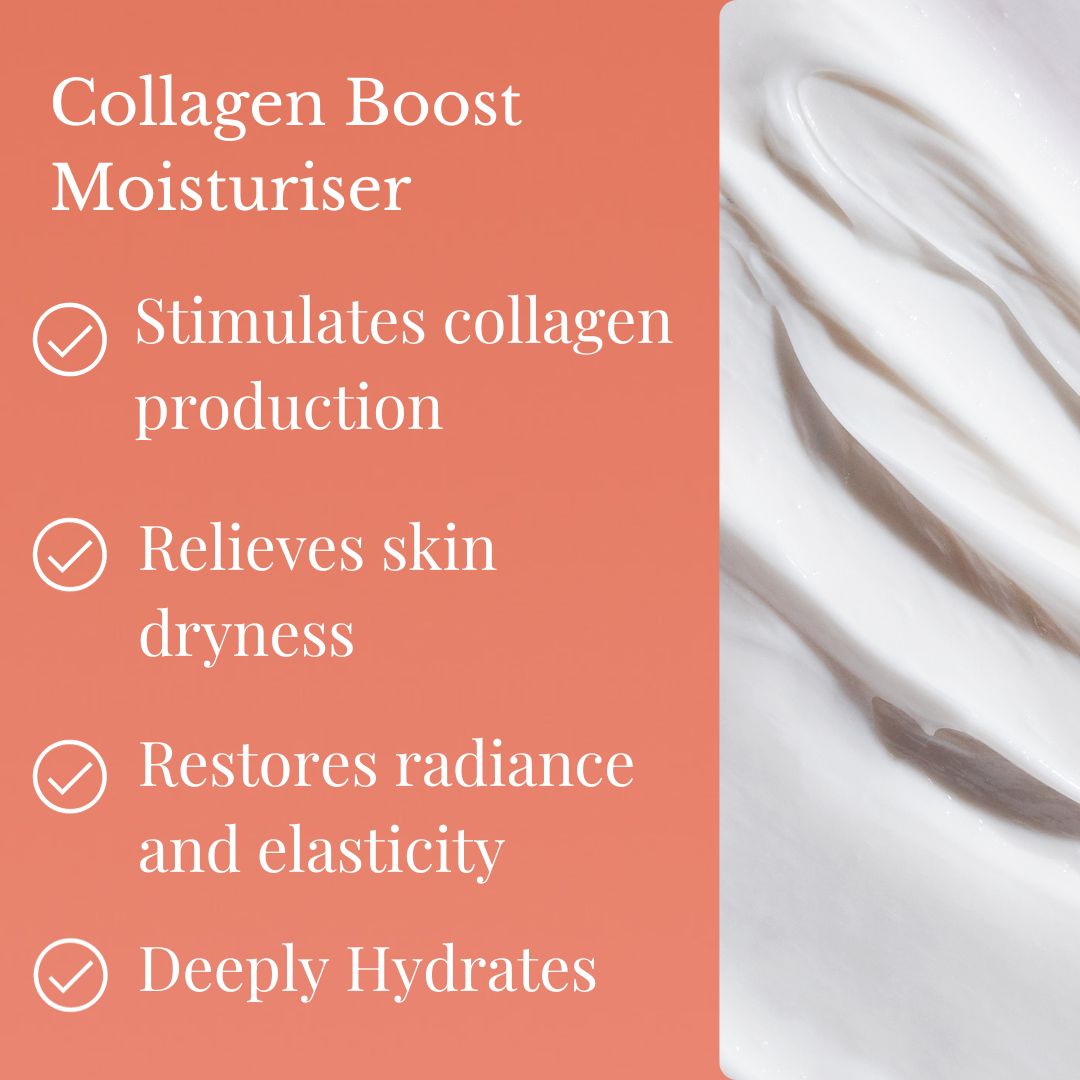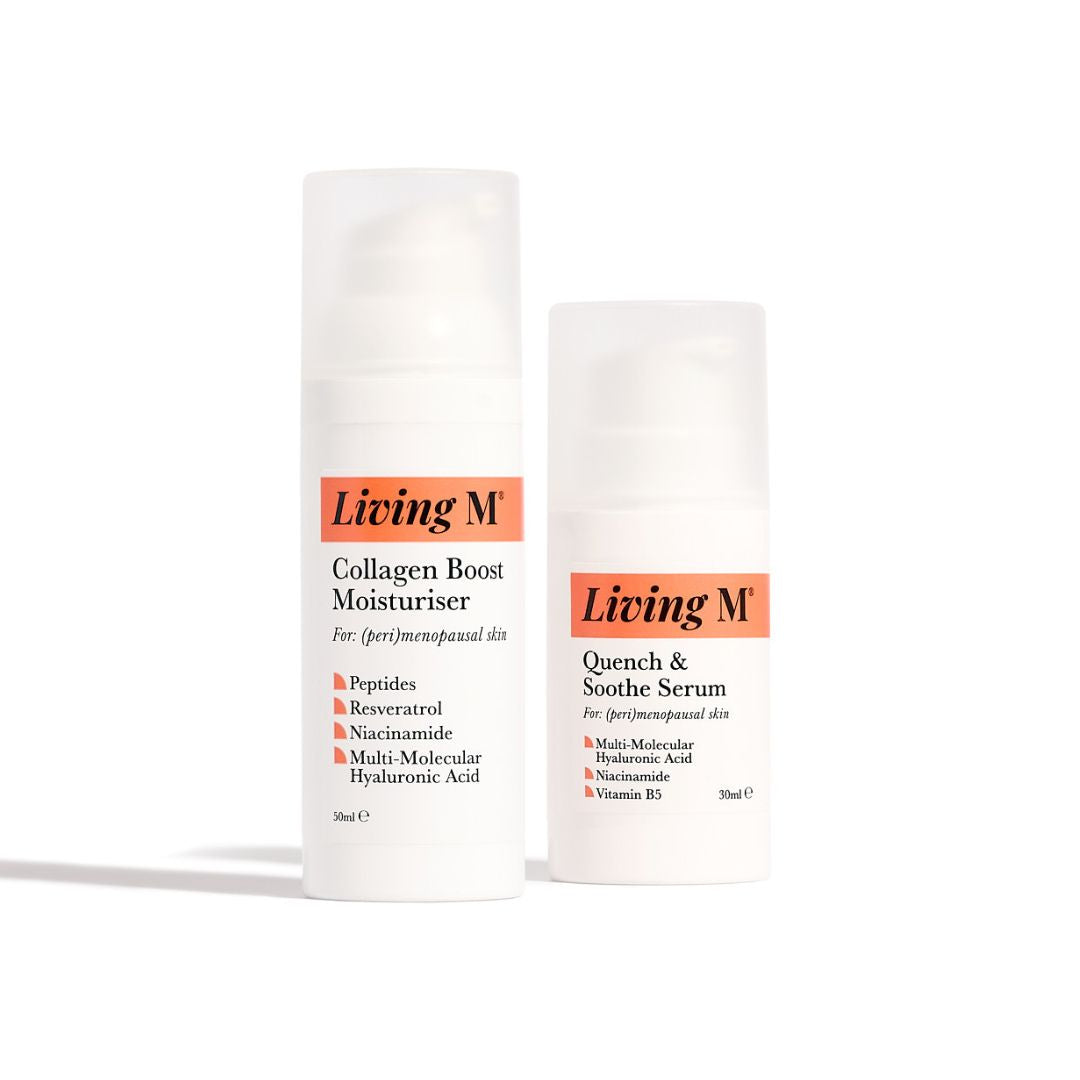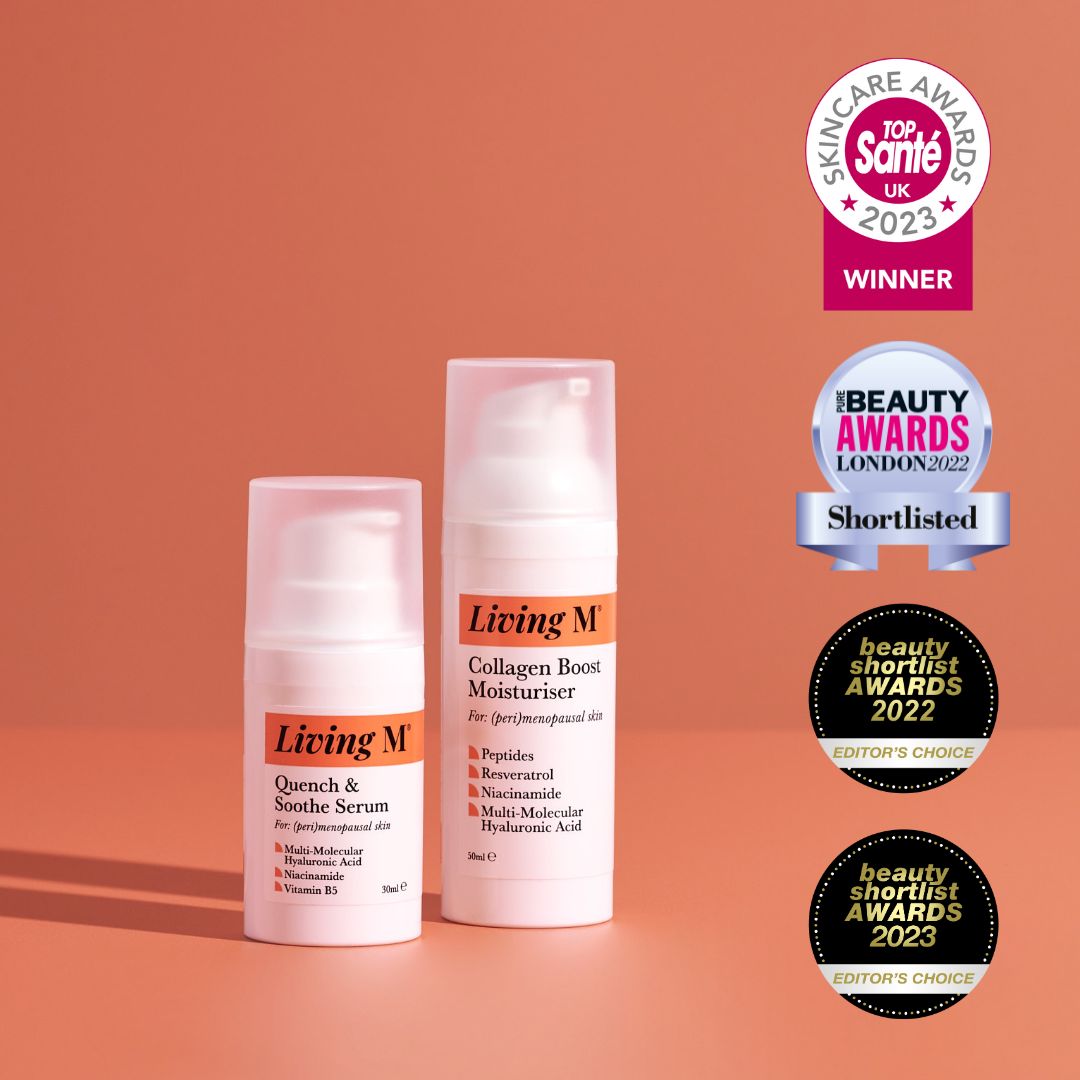 How it works
Expertly developed to target the key symptoms of menopausal skin changes.
Step 1: Quench & Soothe Serum

Intensely hydrates, boosts glow, targets hormonal breakouts and soothes irritation.

Step 2: Collagen Boost Moisturiser

Increases collagen production, relieves skin dryness, plumps and deeply nourishes.
Superstar Ingredients
We care about what goes into our products.
Multi-molecular hyaluronic acid

A powerful moisture-binding ingredient that works beneath the skin surface and can hold up to 1000x its weight in water.

Niacinamide

Strengthens skin's natural barrier, brightens and boosts radiance as well as calming redness and hormonal breakouts.

Peptides

Cell communicating ingredients that stimulate collagen production for firmer, smoother skin.

Resveratrol

This potent phytoestrogen and antioxidant with oestrogen-like effects is a must for menopausal skin. It improves skin elasticity, calms and supports collagen production.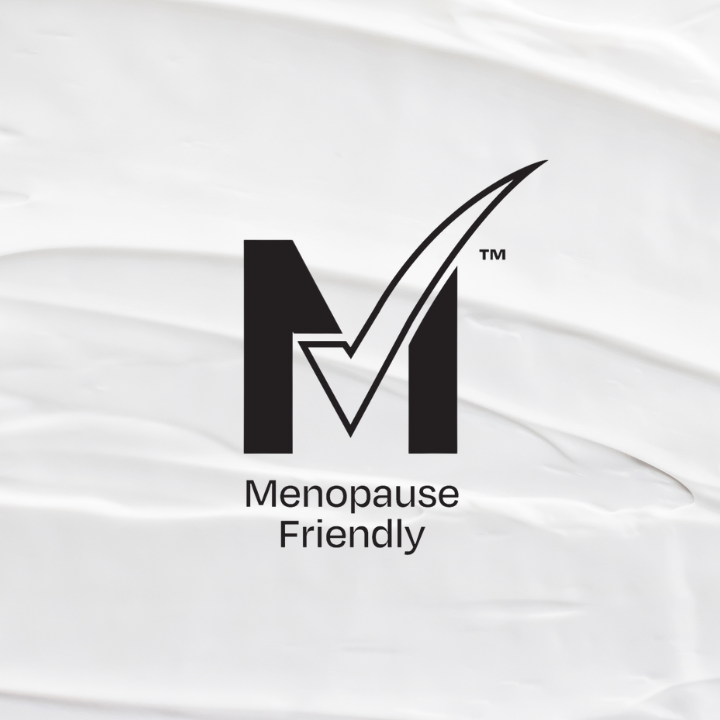 Why do I need it in menopause?
30% of collagen is lost in the first 5 years of menopause and the effect on our skin can be dramatic – dryness, loss of radiance and firmness, hyperpigmentation, increased sensitivity and breakouts are all common skin symptoms caused by fluctuating hormones.

Our expertly curated range is formulated with clinically proven active ingredients layered at optimum levels for menopausal skin, our products complement each other perfectly. We've taken the guesswork out of your menopausal skincare regime – with everything your skin needs and nothing that it doesn't. Use daily as a complete, easy-to-use skincare system for maximum results and great looking, healthy skin in menopause.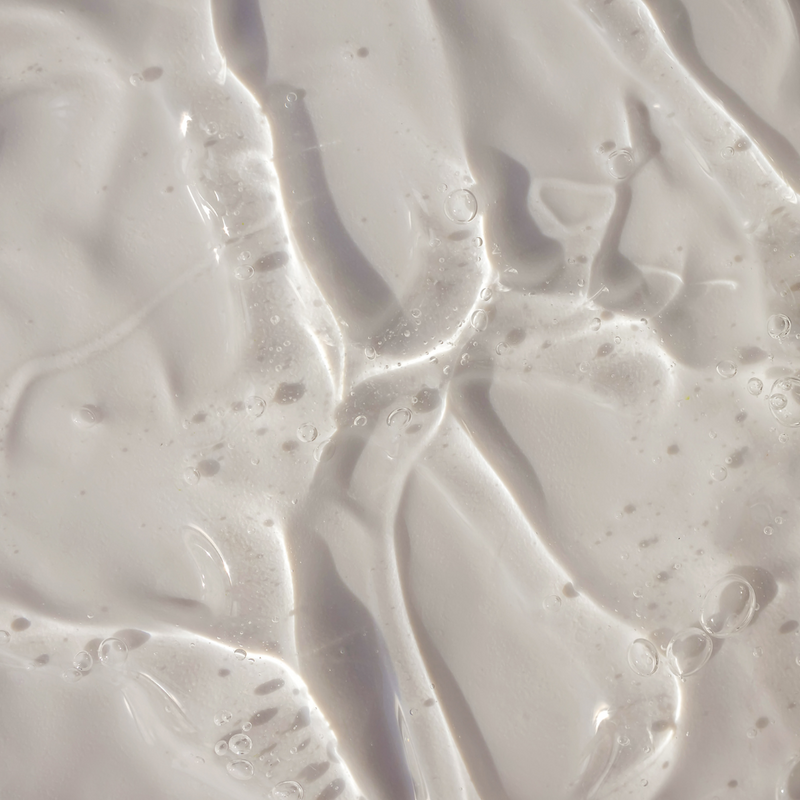 How do I use The Perfect Pair?
Apply Quench & Soothe Serum and Collagen Boost Moisturiser daily, morning and night to clean, dry skin.
What order do I use the products?
Step 1: Quench & Soothe Serum Step 2: Collagen Boost Moisturiser Repeat morning and night.
Can I mix The Perfect Pair with other products?
The products have been designed to be used individually or for optimal results combined in any of our sets. You can also use your existing skincare products alongside Living M skincare.
The most luxurious thing to happen to my skin
I love love love this range and now order it on repeat. My skin has not been happier for a long time now. Everything about the brand is positive and I'm a true devotee. You need these in your beauty routine.
Amazing duo
Since I have been using collagen boost moisturiser and quench and soothe serum, my face is glowing. I have had a few comments from my friends, so it is obviously working. So happy with these products! Amazing!
So glad I came across this 😍
Use this morning and evening and my skin loves it would definitely recommend
I'm 44 and definitely going through the change.
Both products go so well together but I absolutely love the Moisturiser
My go to moisturiser
Amazing product I won't be without
Apply every morning under make up none sticky or shiny my absolute go to .
Moisturiser & Serum
Like the moisturiser, texture and quality. Early days yet as to how well it works.
I find the smell of serum off putting. I can only describe it as unpleasant scent to me, bit like smelly feet. Once it soaks in its fine. I am still using both products.
Shop Sets and Save 20%
Discover our most loved products. Expertly formulated with proven active ingredients to target the hormonal skin changes caused by the menopause.