Regular price
Sale price
£72.00 GBP
Unit price
per
Sale
Sold out
SAVE 20% on The Day and Night Set (Usually, £90 when bought separately).
This powerhouse duo is the ultimate day and night skincare combination for menopausal skin. Featuring Collagen Boost Moisturiser and Super A Retinol Sleep Cream, two expertly blended formulations that are designed to complement each other perfectly for skin that is rejuvenated, replenished, and revitalised.
Liquid error (snippets/buy-buttons line 153): Could not find asset snippets/icon-unavailable.liquid

Vegan

Cruelty Free

Made in UK
View full details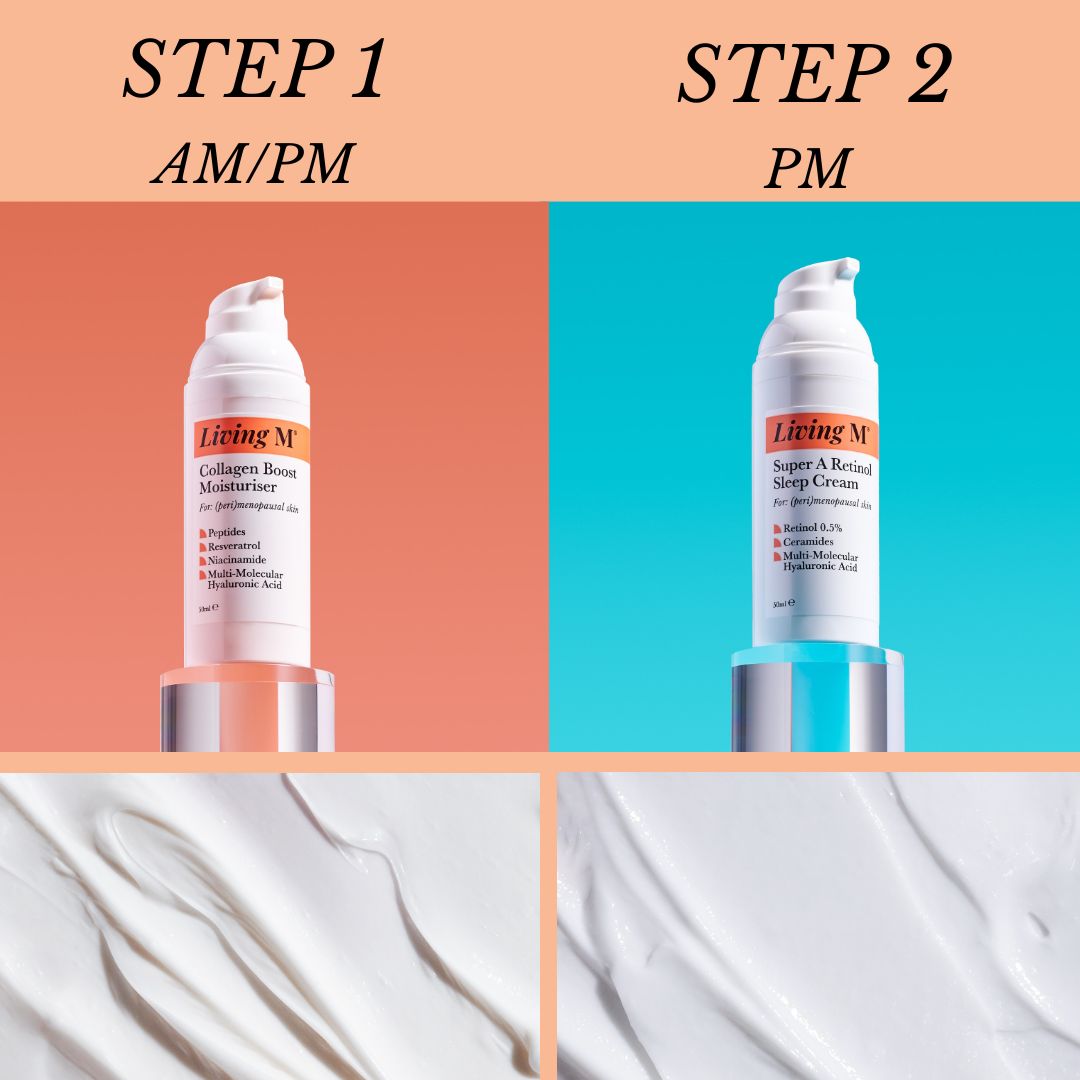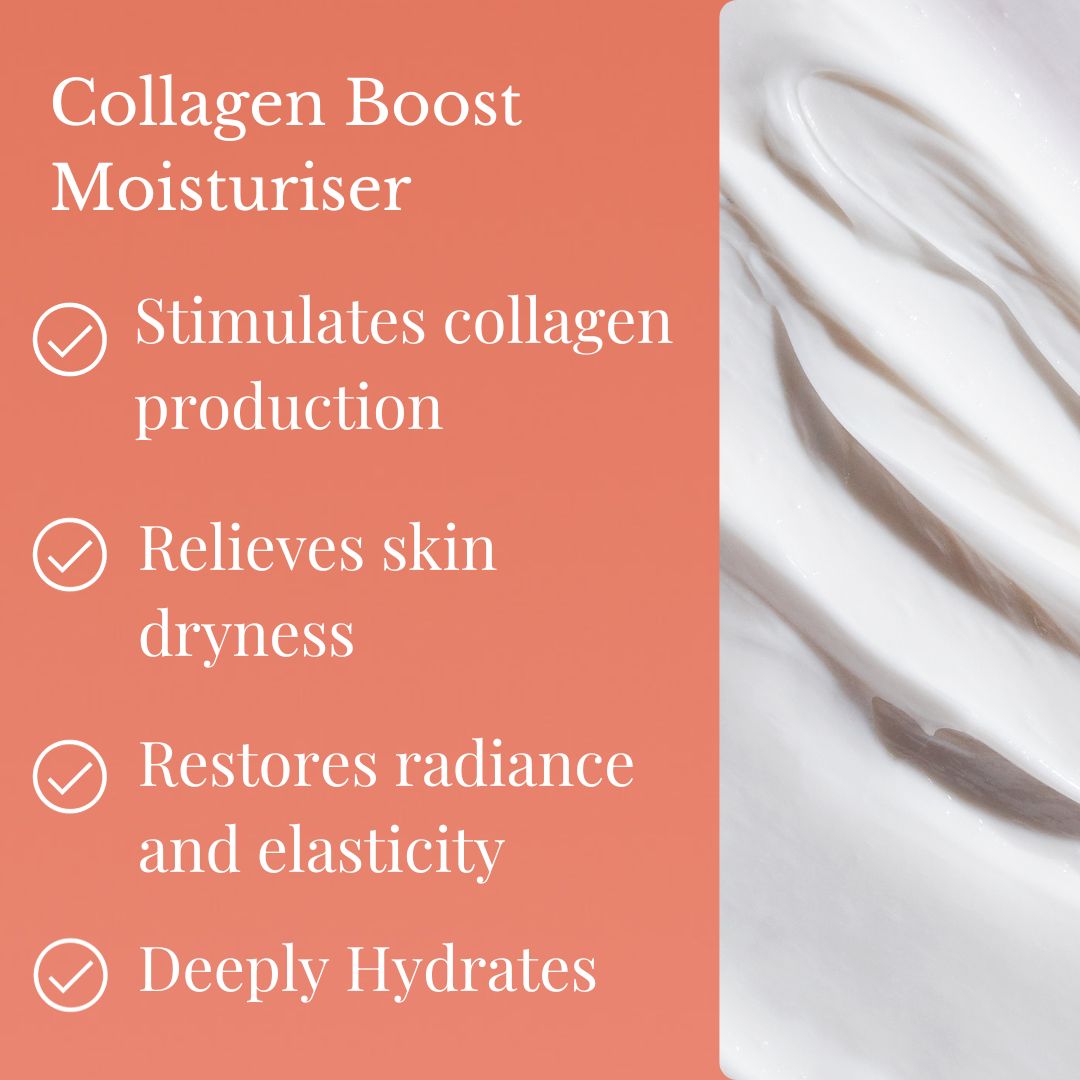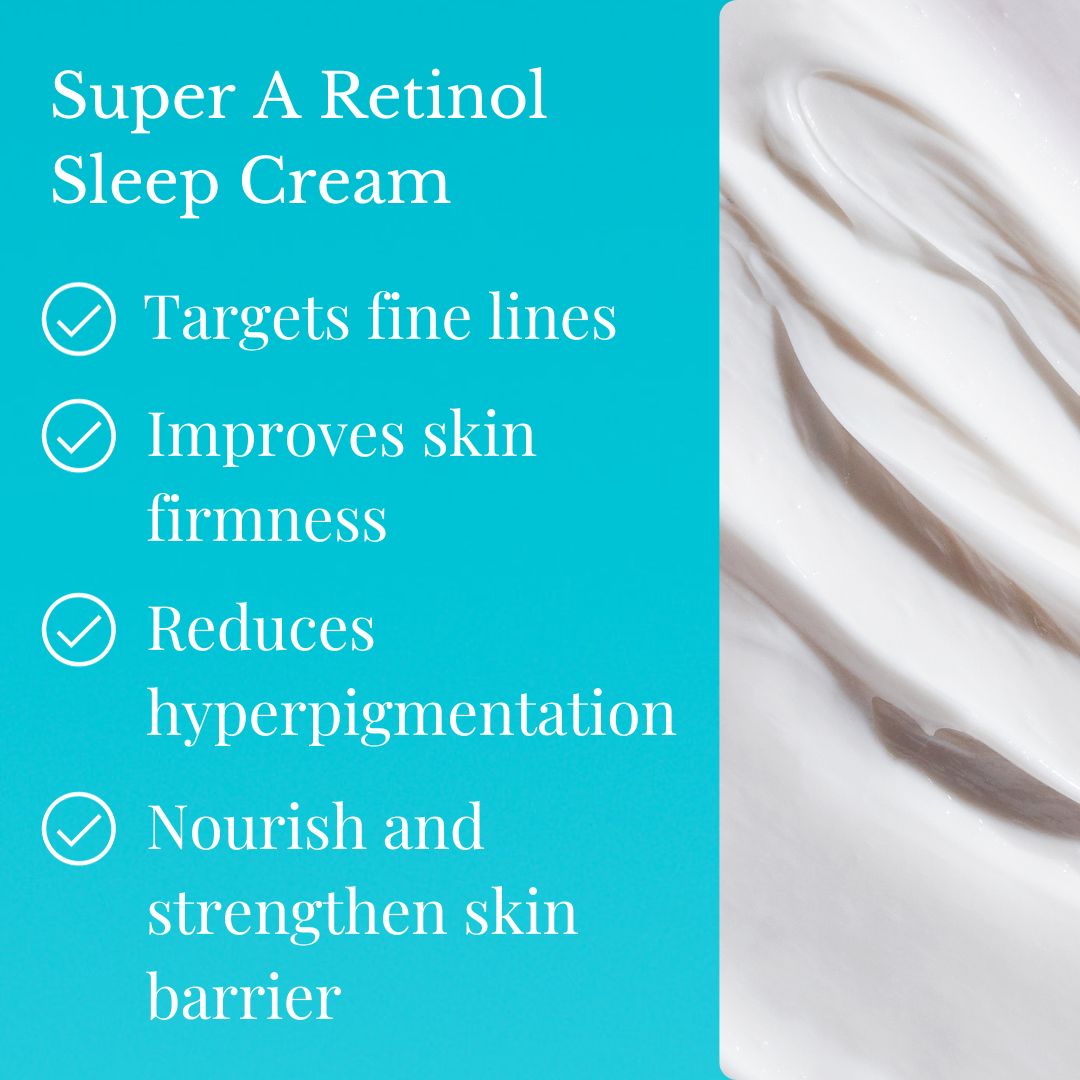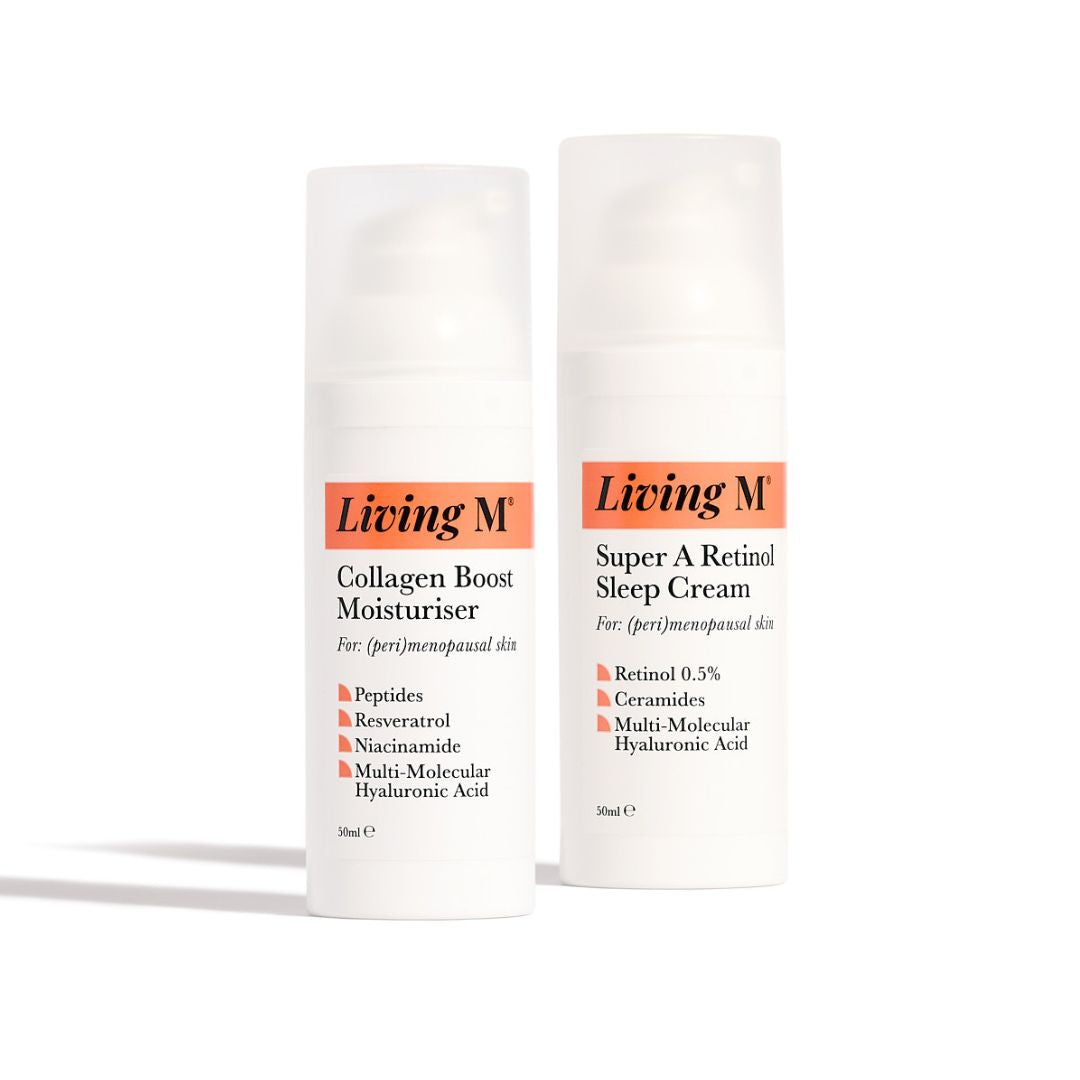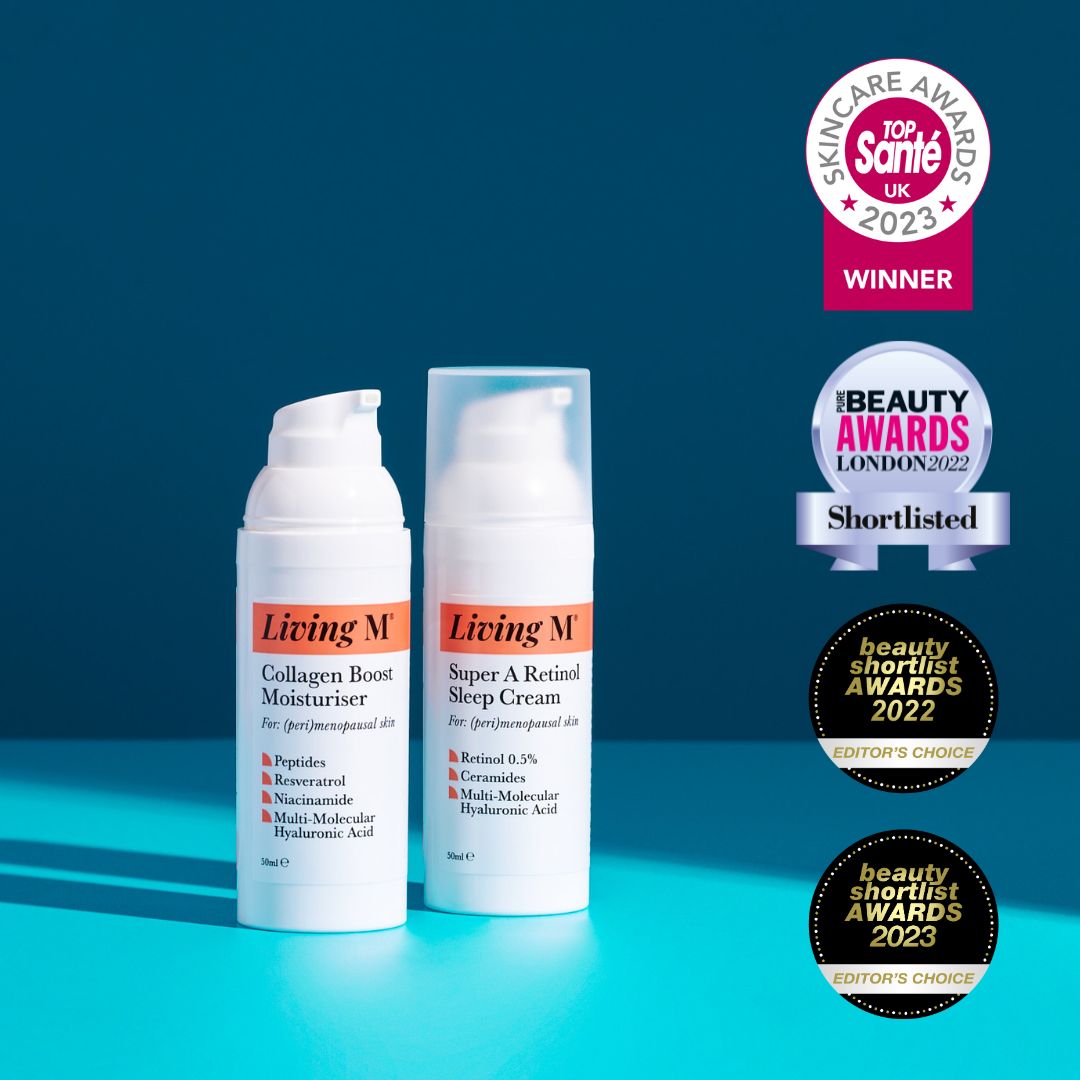 How it works
Expertly developed to target the key symptoms of menopausal skin changes.
AM / PM : Collagen Boost Moisturiser

Increases collagen production, relieves skin dryness, plumps and deeply nourishes.

PM : Super A Retinol Sleep Cream

Accelerates cell turnover and targets hyperpigmentation, fine lines and boosts elasticity.
Superstar Ingredients
We care about what goes into our products.
Peptides

Cell communicating ingredients that stimulate collagen production for firmer, smoother skin.

Retinol

This gold standard skincare ingredient speeds up cell renewal, gently resurfaces, unclogs pores, improves appearance of fine lines and boosts collagen production.

Ceramides

Lipids naturally found in skin that strengthen skins natural barrier, maintain moisture levels and calm redness and irritation.

Multi-molecular hyaluronic acid

A powerful moisture-binding ingredient that works beneath the skin surface and can hold up to 1000x its weight in water.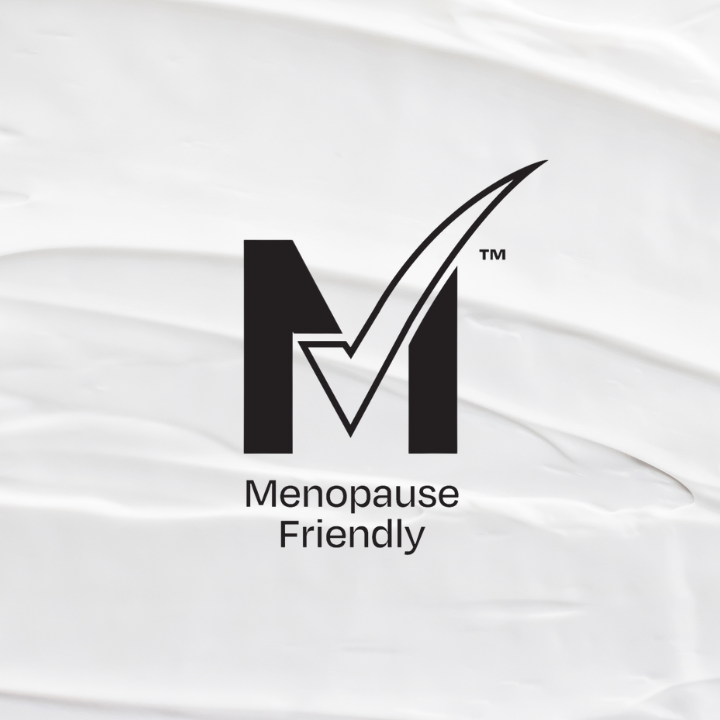 Why do I need it in menopause?
30% of collagen is lost in the first 5 years of menopause and the effect on our skin can be dramatic – dryness, loss of radiance and firmness, hyperpigmentation, increased sensitivity and breakouts are all common skin symptoms caused by fluctuating hormones.

Our expertly curated range is formulated with clinically proven active ingredients layered at optimum levels for menopausal skin, our products complement each other perfectly. We've taken the guesswork out of your menopausal skincare regime – with everything your skin needs and nothing that it doesn't. Use daily as a complete, easy-to-use skincare system for maximum results and great looking, healthy skin in menopause.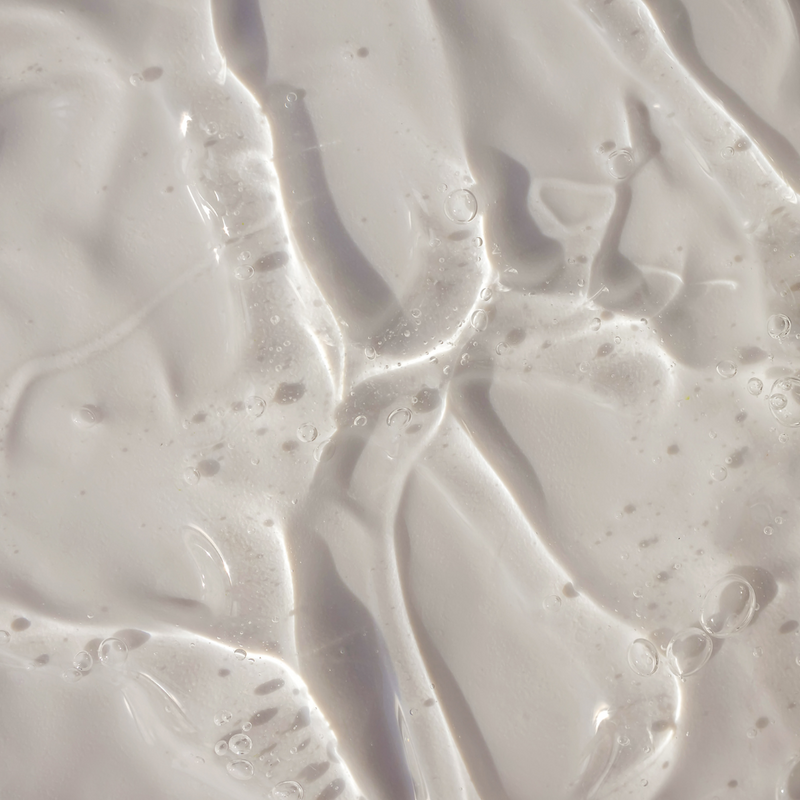 How do I use the Day and Night Set?
Step 1: Collagen Boost Moisturiser – applied every morning and nights when not applying Super A Retinol Sleep Cream Step 2: Super A Retinol Sleep Cream applied only a night when not using Collagen Boost Moisturiser. Depending on whether you are new to retinol or a regular retinol user, your usage frequency will be different. Here is what we recommend. New to retinol: First two weeks, use 1-2 times a week on non-consecutive days watching carefully for signs of irritation. If your skin is comfortable after two weeks then start to slowly increase usage over the next two weeks building gradually to use every other night. Regular retinol user: First two weeks, use 2-3 times a week on non-consecutive days watching carefully for signs of irritation. If your skin is comfortable after two weeks then you can increase usage gradually to every other night.
How much do I use?
Use 1-2 pumps applied to clean, dry skin – on face, neck and decolletage.
Do I need to use SPF?
Absolutely. Retinol can make your skin more sensitive to sunlight so it's essential you use sunscreen in the morning and reapply throughout the day. We advise to use SPF 50 every day.
Can I mix the Day & Night Set with other products?
The products have been designed to be used individually or for optimal results combined in any of our sets. As with any retinol product you should carefully consider usage in relation to acid products such AHA or BHA. We recommend these are used on the days you are not using retinol.
Good cream
Nice cream smooth only just stared using it so wel see thanks
Shop Sets and Save 20%
Discover our most loved products. Expertly formulated with proven active ingredients to target the hormonal skin changes caused by the menopause.